There are tons of videos on youtube and elsewhere that offer terrific instructions for sweet little updos---just check out our Easy Updo Video Playlist. It may take you forever to get a perfect hair-bow like Paris Hilton's, but do you really want to look like Paris?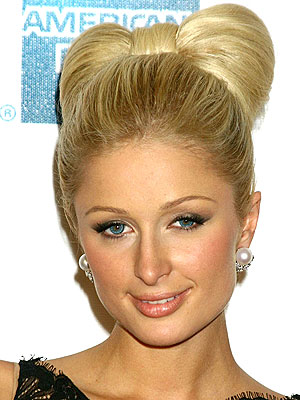 Paris Hilton's Oscar-Worthy Chignon
Right now, the sweetest looks are just a little messy. At the 80th Annual Academy Awards , all the A-listers sported sweet, carefree trendrils streaming from their effortless-looking updos. Think Jen Garner :
Flash Updo: Jen Garner's Oscar-Worthy Chignon
While you know she spent hours in a salon chair, this is a look easily duplicated in a number of minutes (providing you have enough hair to pull it off. I obviously don't) . It's just a low, messy chignon. This look will work best on long, gently wavy hair.
Flash Updo: Jen Garner's Oscar-Worthy Chignon
1. Give yourself a high side part on whichever side of your head you think looks best. To get hair to fall the right way, Jen's stylist probably blew sections dry starting closest to the scalp, pinning each section back until he'd finished.

2. If you have stick straight hair, you can now use a curler on the ends of your hair. Try for big, loose curls--tight, sausage-like curls are a little
too
prom, even if that's your ultimate destination. Trust me.
3. Gather hair into a low, loose ponytail (leave a few waves to frame the face for Jen's look). Leave the elastic relatively loose on the hair, and use bobby pins to secure it to your head.
4. Loop individual sections of hair around your ponytail's base, pinning loops into a loose bun (make sure you use bobby pins the same color as your hair). If you have too many loose ends once you've pinned all sections, don't fret. It's supposed to look sort of messy. It seems that Jen's stylist pinned the loose ends beneath the ponytail base, so if you have enough length to tuck them under, go ahead.